Question: What's better than throwing a party?
Answer: Throwing a party with the help of a pro like Karen Maher Nadeau, catering and events coordinator for South Franklin Circle.
As a 20-year veteran of the hospitality industry, Karen is a model of knowledge, warmth, and efficiency. "After seven years at Judson, helping residents host events is what I do best," she says. "With all its diversity, detail, and need for organization, this job is a perfect match for my skill set."
Working closely with the culinary team at Radius, Karen has overseen every aspect of residents' special events: from menu planning, decorating, and valet parking to bar service, wait staff, and after-party cleanup. "They never even have to run their dishwashers!" she laughs.
One of Karen's favorite fêtes is the New Residents' Open House and Cocktail Party. A welcome gift from South Franklin Circle, the celebration introduces new residents to the community and to the services provided by the dining and catering operations.
"For residents, it's a wonderful opportunity to showcase their new home to family and friends," Karen says. And with hors d'oeuvres created by Radius executive chef Kevin DeLargy, "it's a great way to get a taste of the food we have to offer."
"Radius does not feature 'institutional' food," she adds. "Chef Kevin's food is simple, seasonal, and beautifully presented, and the 'welcome' party is a perfect chance for new residents to experience that."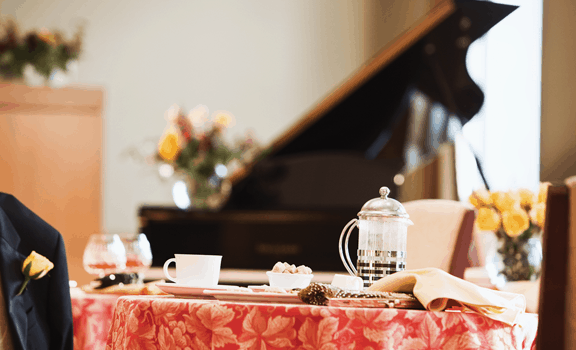 Birthdays, anniversaries, receptions, club meetings, and bridge luncheons are some of the other types of events to which Karen lends her expertise. The festivities can be held in residents' homes or, if desired, at a variety of charming indoor or outdoor spaces at South Franklin Circle. Among them: the expansive Chautauqua Room can accommodate up to 80 for dinner or 150 for cocktails; the intimate private dining room comfortably seats 25, and two beautiful patios, one with a stone fireplace, provide al fresco options in season.
In addition to helping decide upon an appropriate space, Karen is happy to arrange for linens, flowers, specialty glassware, and appropriate beverages, as well as advise on menu choices.
All comestibles are prepared in the Radius kitchen, under Chef Kevin's direction. And service is as polished as the stemware, often provided by Radius waiter Mike Ryan. "Mike is a real pro," says Karen. "He has a country-club background, knows what everybody likes to drink, and is so popular among the residents, they ask for him by name!"
That type of personalized attention is standard practice at South Franklin Circle. "I'm all about anticipating a client's needs," says Karen. "I know so many of our residents so well, I can make suggestions that I'm sure will please them. That includes knowing which of their guests is vegetarian, who might prefer seafood, and who is on a gluten-free diet. Obviously, we can accommodate them all."
According to Karen, a typical event might find a resident kicking off a festive evening with cocktails and hors d'oeuvres in their home, with guests then moving to the private dining room for a sit-down dinner. And when the lucky host returns to his or her home afterward, all traces of the party have been tidied up and taken away.
"I've hosted four cocktail/dinner parties here with Karen's help," says Peter Bergsten, a three-year member of the SFC community. "As a widower, I rely on Karen's suggestions and assistance. Thanks to her, the whole process has been almost seamless."
For Karen and her team, that's the goal. "We did a cocktail party recently for 25 guests, with 10 or 12 types of hors d'oeuvres," she recalls. "The quality of the food and the variety were impressive. And it was a beautiful night, so the guests could spill out onto the balcony. When we stood there at the end of the evening and said goodnight, everyone was just beaming.
"For us, that's what it's all about: making residents happy."
Count Mr. Bergsten as one of those happy residents. "They do a consistently fine job and lend a real personal touch to your private entertaining," he says. "Actually, it comes about as close to having staff as you can get, without actually putting them on your payroll!"
For more information about the lifestyle and dining options at South Franklin Circle, click here.